As I recently described, my primary requirement for selecting a hotel is that it has an in-room safe for storing my laptop.
Recently I have been running into problems regarding that. In the last year or so, there have been many cases when the safe has been too small for my laptop, and in one case there was no safe at all despite the advertisement on Hotels.com.
I just returned from this year's vacation trip which included going to the (very crowded) World Science Fiction Convention in Dublin (which had a bit more excitement than usual, e.g. Jeanette Ng's speech, the consequences of which are still emerging, although some are wondering about how to best handle such problems), and the Eurocon in Belfast the next weekend. No problem with in-room safes in both hotels, one of the hotels was booked through Hotels.com, the other direct. Then, to wrap up the vacation, I booked a stay in London and found this safe (my laptop for scale):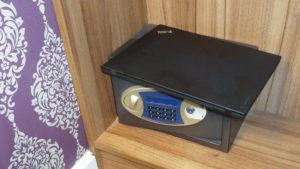 I have generally not had problems with the size of in-room safes in London before, although there was one case (5 years ago) when the hotel didn't have the advertised safe. There is a first time for everything, I guess.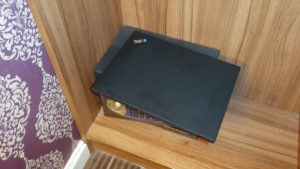 In fact, it was barely big enough for the document wallet I bring along (if the safe had been in working condition which it wasn't, but that got fixed). Actually, this may be the smallest in-room safe I have seen, except for the Anaheim safe 13 years ago that I mentioned in my earlier post. The previous contender was able to hold a 12-inch laptop (with the battery removed).
In the past year or so, I have booked 12 hotel stays via Hotels.com (which I have been using for more than 10 years). In two cases I didn't bother with an in-room safe, since the stays were just overnight at an airport.
Among the remaining 10 bookings, 5 hotels did not have a safe big enough for my laptop or did not have one at all (and that hotel entry still hasn't been fixed two months later). In one other case, I was able to work around the problem by using the hairdryer for something it was not designed for.
So, that means that in the past year or so, 50% of hotels booked via Hotels.com did not have in-room safes that met my requirements. This is also a very sharp increase in such problems compared to before.
That is not good enough!
The whole point about booking services like Hotels.com is to search for, and book stays at hotels that fit the guest's requirements without having to search all over the internet through various hotel booking sites. There is an implied promise and expectation that the information provided about the hotel is accurate and sufficient. That turns out not to be the case regarding in-room safes, and one may start to wonder how much other information about hotels is incorrect?
It should not be necessary to phone or email each hotel that is being considered to verify information on their Hotels.com booking page (which is what Hotels.com support have suggested I do).
This is a safe too far, and I am therefore no longer going to use Hotels.com for booking hotels until they have implemented the following:
Removed all "in-room safe" entries that are NOT listed as "large enough for a laptop". Alternatively, changed the text for these to specify that they are "small". In any case, new in-room safe entries must either specify "small" or "Large enough for a laptop" ("large enough" meaning that it will comfortably fit a 17-inch laptop).
Each hotel must be informed about this change and will have to confirm that their safes are capable of comfortably holding a 17-inch laptop (that is, at least 40×27 cm). The images from their hotel rooms should also include at least one picture of the safe, with a recognizable laptop model inside.
Searching for hotels must include a filter for in-room safe (large enough for a laptop). It's been over five years since I first suggested this to Hotels.com.
And Expedia, Momondo&Co., before you start crowing and try to invite me over: this applies to you as well. You are not just all basing your information on the same data. When I checked your various sites regarding the hotel without safe in July, the information I saw suggests that you all engage in a game of telephone, mangling the data until it has no resemblance to the original data.
What will I do about hotel bookings from now on? I'll likely start using one, maybe two big brand hotel chains and book directly which likely means that stays are going to become more expensive, and the smaller hotels (like the recent London hotel) will loose a few stays. Sorry about that.